A 39 year old pregnant woman was rescued yesterday afternoon by members of the Fire Brigade after becoming trapped on the cliffs near to Maro beach.
It appears that the woman and her 46 year old partner had fallen out of their inflatable toy dinghy after the boat was driven onto rocks by strong waves. The woman stayed on the rocks, whilst the man swam back to call for help.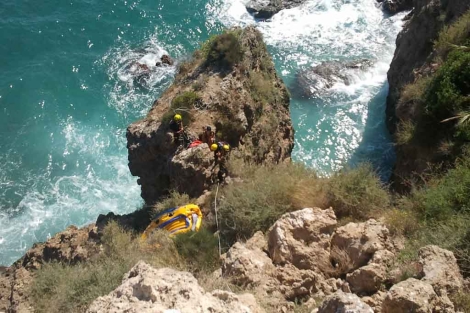 The Maro beach lifeguards tried to rescue the woman, but where unable to do so and had to call in the fire brigade, who lowered ropes 60m down to the woman from the clifftop.
The woman was not injured in the incident and is described as being totally unharmed.
Many people swim or paddle round from Maro beach to the nearby waterfall, but yesterday's rough sea conditions would have made such a trip inadvisable in a toy boat.
Bookmark Or Email This Page
Add your own comment and read others